The
multi-award winning

Mortgage Criteria Search System for Intermediaries

Designed and built by brokers for mortgage brokers to make placing cases easier and quicker. Perform as many searches as you like over multiple criteria categories to find out which lenders will accept your client's criteria.

We have over 140,000 individual criteria being kept up to date by all leading lenders across residential, buy to let, equity release, self build, commercial, bridging, second charges and overseas mortgages.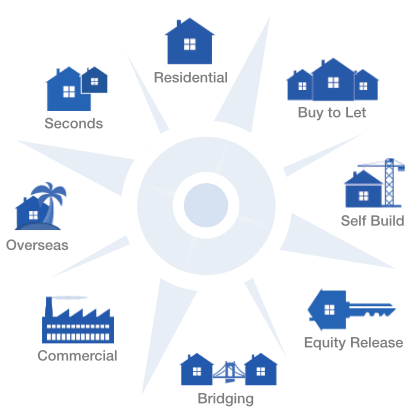 Over

260 Lenders

and growing
Lenders are loving Knowledge Bank. We've made it easy and quick to keep criteria up to date. The time has come to #DeleteTheSpreadsheet
Search in seconds
We know you don't have the time to learn to use a new system, so with that in mind, we built one that needed no instruction manual or training! It's this easy: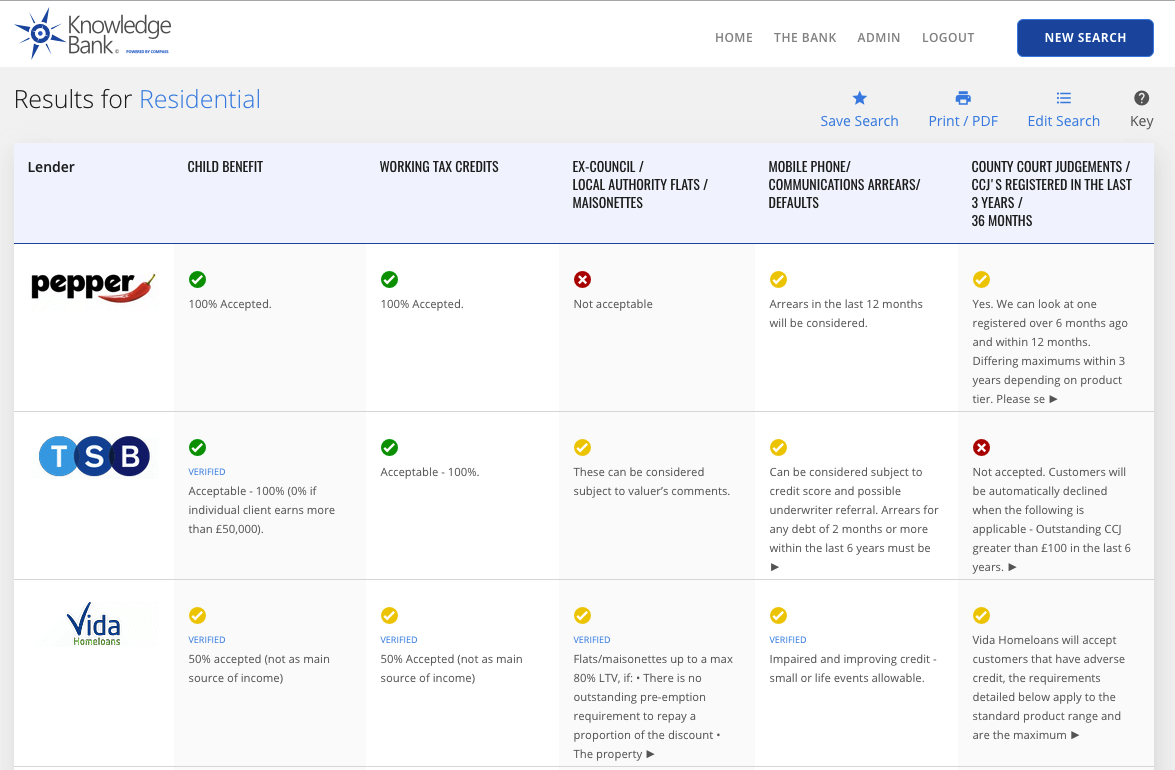 Select your Lending Type

Choose from Residential, Buy To Let, Equity Release, Self Build, Second Charges or Overseas Mortgages.

Select relevant criteria for the case you need to place

We've made it simple to search through the 450+ categories to add only those you need for your case. A few clicks and your search is ready to go.

Click Search

That's it! Done. Within seconds your results will appear in a clear easy to understand table with the lenders who are most likely to consider your case at the top. Where more than one lender may accept the case, the results are completely impartial and appear in alphabetical order to make it easier for you to navigate.
START YOUR 30-day trial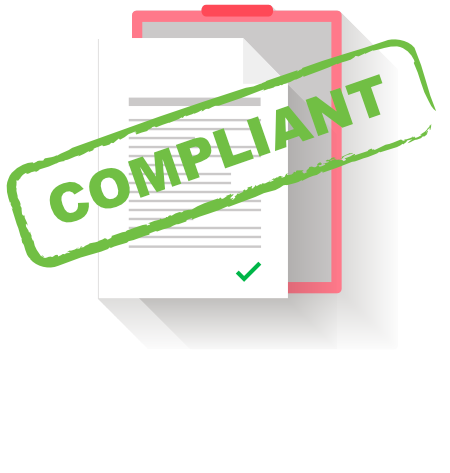 Keeping you Compliant
For the first time ever, it's now possible to thoroughly document your 'Evidence of Research' as required by the FCA. Once you have the results of your search, you can either print them out or save them as a PDF to sit alongside your product sourcing results.

START YOUR 30-day trial
Advisers and Lenders love Knowledge Bank
It's easy for us to sing the praises of Knowledge Bank, after all, we built it for a specific task.
However, don't just take our word for it, see what others are saying...
"Let's face it, most of our time as brokers is spent researching criteria in order to place a case. Knowledge Bank is the tool that has saved us time, by pointing out the lenders that can help in a particular situation and telling you straight away which lenders could not."

Anita Smith, Practice Principal, Smith Mortgage Services Ltd




"With Knowledge Bank I have instant answers as to which lenders will proceed with each case, saving me considerable time on the phone, time in which I can work on other mortgages."

Paul Banyard CeMAP, Swanland Mortgages




"Simple and straightforward. Helped me place a difficult case in under 15 minutes. My client was really pleased at the speed in which I was able to get back to her with an answer"

Scott Taylor MAPC, Windsor Mortgage Service




"User friendly and so easy to navigate, love it! Being able to print out the search results to keep on file is a great compliance tool for evidence of research"

Claire Shepherd Cert MA, The Hampton Mortgage Company




"Knowledge Bank has certainly helped me greatly when undertaking file checks as to why certain lenders have been recommended, particularly if they do not feature particularly well in the traditional sourcing systems. The fact that advisers are able to supplement their traditional research with documented evidence of criteria driven research has been of great benefit to me."

Philip Smith, Compliance Manager, First Mortgage (NE)



Unlimited Searches
Perform as many searches as you like, when you like

Keep advisers advising
Knowledge Bank doesn't use algorithms associated with robo-advice, allowing advisers to keep doing what they do best. Advising.
Anytime, Anywhere
Be confident with your recommendation. All of the answers, any time of day, in your office or in your client's home.
By brokers, for brokers
Designed and built by brokers, for brokers with years of experience and understanding of the industry.
Up to date
Lenders have direct access to keep their own criteria up to date on the system so you know it will always be up to date. The time has come to #DeleteTheSpreadsheet
No contracts
We're so sure you'll love Knowledge Bank, we don't tie you into a contract.